Description
Rupes LH19E/STN – Rotary Polishing Machine
Featuring a high torque motor, compact design, premium ergonomics and a lightweight housing, the LH 19E is one of the most capable and maneuverable rotary polishers on the market. Its lightweight and powerful design makes it the ultimate rotary polishing solution for a variety of industries including automotive detailing, collision repair and refinishing, marine, and more.
Rupes LH19E Features:
ANTI-VIBRATION SIDE HANDLE
The optional soft-grip side handle reduces vibration during the polishing process and provides comfortable and familiar hand positions for seasoned rotary users. The all-new design and specialized materials absorb and dissipate vibration and can be positioned on either side of the tool depending on operator preference.
ANTI-VIBRATION LOOP HANDLE
An innovative loop handle allows users to hold the polisher securely at different angles for precision and stability. The soft grip material and special design absorb and dissipate vibration to improve operator comfort. The D-loop handle is included standard with the LH 19E in all kit configurations.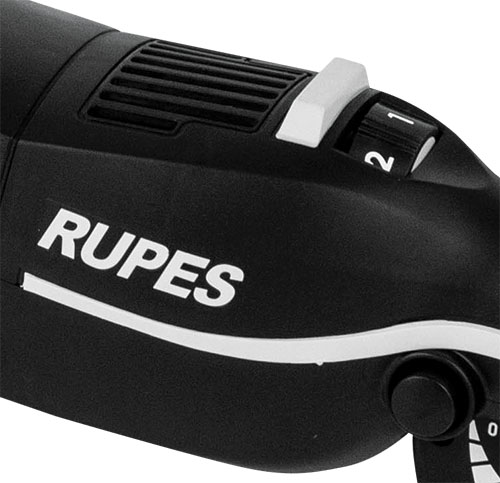 ELECTRONIC SPEED CONTROL
The new electronic speed control dial allows for easy adjustment of the top speed of the polisher without requiring the operator to move his hands.
The larger dial is easily adjusted with a move of the thumb.
High visibility numbers and a more positive feedback from the movement of the dial make speed changes feel more deliberate, allowing operators to selectthe ideal speed for the task without any interuption to the polishing process.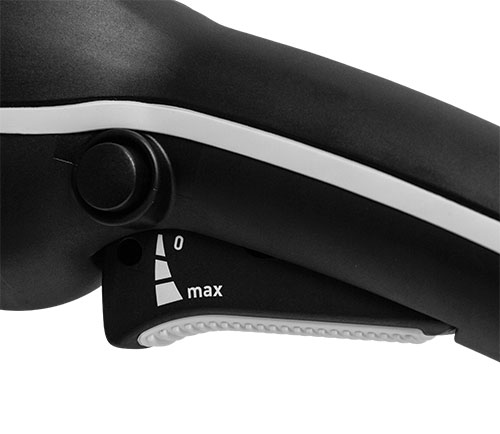 PROGRESSIVE TRIGGER
Adding an additional layer of control is the new progressive trigger.
Acting as a throttle to control speeds within the dial range, the progressive trigger allows the operator to make subtle adjustments for precise control without interruption of the process or need to reposition the grip to access the speed dial.
The most efficient motor in its class!
A powerful 1200 Watt motor is mated to a double gear reduction system that produces incredible torque and consistency through the entire speed range from 450 up to 1700 RPM. Speeds are controlled via an all new electronic speed control dial features large displayed speed settings and a smooth selection wheel that allows users to set their speed and adjust easily even during operation. Further adding to the control is a new progressive trigger design that allows for virtually endless levels of adjustment within the speed range, acting as a throttle lever for fine adjustments without changing the main speed setting.
LH19E Technical Data:
ø Backing Pads Available: 125mm/150mm/165mm  5″/ 6″/6.5″
Power: 1200 Watt
R.P.M.: 450 – 1700
Weight: 2.2kg
Speed Control: Yes
Progressive Trigger: Yes
Spindle Thread: M14
Electrical Cord: 9m